Manufactures of the Chemnitzer Concertina
Hengel's Concertina by Christy Hengel, New Ulm Minnesota
Christy Hengel and me at Christy's work shop in New Ulm Minnesota, November, 1997.

The Concertina is Hengel's #5

Hengel's #5 was made for Larry Dorschner of the Rainbow Valley Dutchmen in 1958. In 1965, Larry retired and sold this concertina back to Christy Hengel. In 1999, Christy sold Hengel's #5 to Randy Dorschner, and after more than 30 years it's fianaly back making music with the Rainbow Valley Dutchmen!

Christy Hengel's Band in 1970
The most famous concertina builder is Christy Hengel. Christy Hengel purchased his first concertina in August of 1939 at the age of 17 from his cousin who lived on the neighboring farm. He had saved up the money by trapping skunks and weasels. Christy also purchased his second concertina from his cousin in 1941. In 1944, Christy started his concertina repair and tuning business. His first project was converting a triple reed concertina that was once owned by John A. Wilfahrt (Whoopee John) to a quadruple. It was the only way for him to afford a quadruple concertina. In 1947 Christy had his first professional gig playing concertina for a wedding reception. Christy then played for the Six Fat Dutchmen band, but quite the band in 1952 and built his reed form dies. In 1953, Christy Hengel put a down payment on the old Otto Schlicht Patek/Pearl Queen Factory. On a trip to Chicago in December 1953, just after Christmas, Christy visited his parts supplier and discovered all the parts had been moved to the basement and it was all for sale. Christy put a down payment, and ended up paying $1,500 total. By 1955 he had all the parts together and produced Hengel's concertina #1 in Sleepy Eye Minnesota and it was purchased by Don Klossner. In about 1957 Christy Hengel moved to Waseca Minnesota and then to New Ulm in February, 1965. Up to 1969, Christy Hengel built all his own reeds for his concertinas. Building his own reeds added two weeks to the process of building a concertina. Christy decided he need a source for reeds so he and his wife took a trip to Italy to look for a parts supplier. Christy Hengel had tried to produce reeds of the quality made by John Friedl, the most famous concertina reed maker, but only came close. John Friedl took his reed making secrets with him to the grave. In about 1995, Christy Hengel taught Jerry Minar of New Prague Minnesota how to make the Hengel's concertina. Today the Hengel's concertina is produced by Jerry Minar, and Christy Hengel has retired from making concertinas and now collects John Deere tractors as a hobby.
Jerry Minar

213 First St. S.E.

New Prague, Minnesota 56071

612-758-4797
Patek/Peal Queen Concertina, Chicago Illinois
Otto Schlicht immigrated to America from Germany in about 1900, bringing with him a vast knowledge of concertina repair and servicing. He began building Chemnitzer concertinas in 1917. Soon Schlicht was supplying concertinas to Patek's Music Store in Chicago, under the name Patek; the Vitak-Elsnic Music Company, as Pearl Queen, and Kosatkas House of Music in Berwyn, Illinois, with the name "Peerless." Some of the finest concertinas ever built were the Patek and Pearl Queens. Patek and Pearl Queens with reeds by John Friedl, are prized for the best reeds ever produced. What was left of the Otto Schlicht Patek/Pearl Queen factory was purchased in 1953 by Christy Hengel.

Glass Concertinas
Ernest Glass, another German who immigrated to the United States around 1900, began building Concertinas in the early 1920s. With his sons Paul and Otto, continuing the art of concertina manufacturing, the Glass Brothers produced instruments until 1951. A distinctive reed block pattern resulted in a balanced button action which made the Glass concertinas an extremely popular instrument with polka musicians.
Star Concertina, Chicago Illinois
Me and John Bernhardt at Star Concertina.

March 17, 1997
Star Concertina was the last factory to produce Chemnitzer concertinas. John Bernhardt produced about 12 of his Star Beauty and Old Timer long reed plate concertinas a year. Located in Cicero Illinois near Chicago, the origins of the Star Concertina go back to 1917 with the International Accordion Company.
Walter Kadlubowski Sr. came from the Grodno part in Poland in 1911 and settled at 24th and Damen in Chicago and enjoyed playing the Warzowa type of accordion.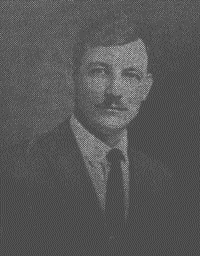 Walter Kadlubowski met Walter Mojsiewicz and Kajetan Perkowski.. Star Concertina got its beginning when the three craftsmen from Europe settled in Chicago and applied their trade learned in Europe making musical instruments.
An accordion shop was started in 1917 on Northwest side of Chicago known as International Accordion Co. At that time their specialty was making different styles of accordions, mainly, Varsovien, Russian, Viennese, Italian and Czech and concertinas under the names International, Schukert, Sitak, and Silberhorn..
In the year 1926 it came increasingly evident that there was a greater demand for the concertina. So with this in mind, the founders decided to manufacture concertinas and incorporated Star as their trade name for the concertinas.
The founders recognized the great opportunity in concertinas and started to improve this instrument from the start. Star eventually became the largest concertina manufacture in the country. Their plant was located at 2351 N, Milwaukee Ave in Chicago.
In 1937, Walter Kadlubowski Sr. died and at that time Walt Jr. was working as an apprentice with his dad.
In 1963 Star changed hands and Walter Kadlubowski Jr. acquired all interests in the company. In 1964 Geraldo Carbonari, who was an expert tuner, came in as a partner and this team of Walt Jr. and Geraldo developed a very good looking and sounding instruments. This team built over 1,000 concertinas which is a feat in itself and really amazing considering the time spent in building one.
In 1966 Star had a big celebration when they celebrated their 40th anniversary in July of that year. In 1974 Walter Kadlubowski Jr. sold Star Concertina to Pompilio Rosciani and Umberto Carroci, who were owners of the Imperial Accordion Company, and Star relocated to 2618-22 West 59th St. Chicago. Walter Kadlubowski Jr. later went on to manufacture concertinas again under the Eagle name. (See Eagle Concertinas)
John Bernhardt and Ed Cogana purchased Star in April 1989. John Bernhardt later bought out Ed Cogana. John Bernhardt had brought high tech CAD design and precision laser cut sound boards to the concertina, and produced some of the finest concertinas with unmatched quality and finish, yet retaining the high quality hand crafted workmanship. John Bernhardt closed Star in August of 2000. Star's last location was 5808 west 59th street in Cicero, Illinois.
Eagle Concertina, Chicago Illinois
Walter Kadlubowski Sr. was one of the founders of Star Concertina and in 1963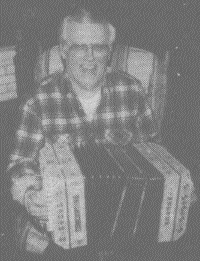 Star changed hands and Walter Kadlubowski Jr. acquired all interests in the company. In 1964 Geraldo Carbonari, who was an expert tuner, came in as a partner. In 1974 Walter Kadlubowski Jr. sold Star Concertina to Pompilio Rosciani and Umberto Carroci, who were owners of the Imperial Accordion Company. After selling Star, Walter Kadlubowski Jr. got restless after a while and started building concertinas one again under the name of Eagle with his own style of long plates.
During the 1980's quality American made concertinas were in demand and still are today. It was during this time that Walter Jr. was showing a new Eagle concertina to a group of musicians during the annual concertina jam session in Union, Michigan. A young musician named Rich Raclawski asked him to teach him how to build concertinas. After about a year Walter called Rich and in 1988 Walter Jr. and Rich Raclawski began building Eagle Concertinas and doing repair and restoration work to all makes of concertinas. In November of 1992 Walter H. Kadlubowski passed away. He was a master builder and repairman of concertinas. He gave unselfishly of his time and talents so that the concertina would live for another generation to enjoy. Rich Raclawski continues the tradition of building new Eagle Concertinas one at a time as well as repairing and restoring vintage concertinas.
Richard Raclawski
8340 S Golden Fields Dr
Oak Creek, WI 53154
(414) 570-9908
crescentind@aol.com
Echo Concertina by Stan Uhlir, Minneapolis Minnesota
The Echo Concertina was created in 1960 by Stan Uhlir of Minneapolis His main goal was to produce a concertina similar to that of the Patek's and Pearl Queen's manufactured in the late 1920's through 1941. He wanted a lightweight easy to handle instrument with the quality of large concertina. Ultimately, he designed an all new double reed compact Echo Concertina featuring free floating buttons and new type curved hand rests. The most important item on the instrument was a new duel taper reed blocks, tone chambers and echo low reeds producing the true concertina tone with very low pressure. After four years of importing 200 of the double reed concertina from Italy, Uhlir produced his first quadruple concertina. Stan went on to build 30 quadruple concertinas in the basement of his home in South Minneapolis, producing about two a year.
After suffering a massive heart attack in 1974, Stan Uhlir semi-retired from making Echo Concertina. For two years he worked with Bob Novak of Falcon Heights Minnesota, teaching him the tricks of the trade in building the Echo Concertina. Stan Uhlir passed away in 1996 at the age of 82, but Bob Novak is carrying on the tradition, and continues to manufacture the Echo Concertina.
Bob Novak
2925 Klondike Ave No.
Lake Elmo, MN 55042
(651) 777-2884
Wolfe Concertina, by Anton Wolfe of Steven's Point Wisconsin
The Wolfe Concertina was manufactured in Steven's Point Wisconsin by Anton Wolfe. In 1967 Anton Wolfe left farming and purchased concertina stock and equipment from Rudy Patek and began manufacture of the Wolfe Concertina in Stephens Point Wisconsin. Rudy Patek had retained materials from his years of association with Otto Schlict, had then retired to nearby Weyauwega Wisconsin. Later, Wolfe was associated with Jerry Minar, who later dropped the Wolfe Concertina when the had the opportunity to manufacture the Hengel. Wolfe is now retired from making concertinas. He sold most of his parts to Jerry Minar of New Prague Minnesota and retried to Bentonville Arkansas. Jerry Minar was originally going to take over the production of the Wolfe Concertina, but instead is now producing the Hengel's concertina.
Brown Concertina, by Bill Brown of New Ulm Minnesota
Bill Brown is the other Concertina manufacture from New Ulm Minnesota. Although not as well known as Christy Hengel, Bill Brown also produced concertinas. Today, Bill Brown operates Brown's Music in New Ulm and is a source for used instruments, sheet music, and recordings. He no longer makes concertinas, but his instruments are still used today in bands such as the "Jolly Fishermen" and David Suess of "Lester Schuft and the Country Dutchmen
Brown's Music
2208 South Broadway
New Ulm Minnesota 56073
507-354-3615
Royal Concertina, by Slim Maser of St. Paul Minnesota.
Royal Concertinas were produced in St. Paul Minnesota using some of the basic parts purchased from Star Concertina in Chicago Illinois.
Grand Concertina, by Ozzie Guerini of Chicago Illinois.
Other manufactures: Sitek, Lange, Grand, Gem, Crown, Arnold, O.R.A.
A special thanks to Steve Litwin, Christy Hengel, John Bernhardt, Loren Schaeffler, Jim Leary, and Walter Kadlubowski the 3rd for help with the information on concertina manufactures.

Back to main page
All contents Copyright © Daniel Melander